Before I begin my "waiting wednesday" I have been thinking about doing more "adult" book reviews, as that seems to be all I am reading lately. I LOVE PNR books (Paranormal Romance). I know my title days I do YA reviews, but I know a lot of you readers, read more than just YA right? What do you guys think? Would you read reviews on more adult books?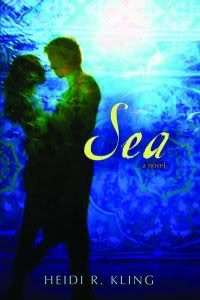 Waiting on Wednesday is a weekly meme, hosted by
Jill
at
Breaking the Spine
.
Release Date; June 10
th
2010
Product Description from Goodreads
Haunted by recurring nightmares since her mother's disappearance over the Indian ocean three years before, fifteen-year old California girl Sienna Jones reluctantly travels with her psychiatrist father's volunteer team to six-months post-tsunami Indonesia where she meets the scarred and soulful orphaned boy, Deni, who is more like Sea than anyone she has ever met.
She knows they can't be together, so why can't she stay away from him? And what about her old best friend-turned-suddenly-hot Spider who may or may not be waiting for her back home? And why won't her dad tell her the truth about her mother's plane crash? The farther she gets from home, the closer she comes to finding answers.
And Sea's real adventure begins.
There has been quite the buzz on Twiter about this book. I hadn't realized it had yet to be release the way people were talking about this one, I was quite shocked it had such a reputation months before its release! Definitely got my attention.
I like that the premise of this book is very originally. Although it seems the plot is quite hush hush, the author doesn't really reveal much in the summery which makes me think theres a bit of a shocker. I love the cover, it makes me think of mermaids, and Ariel, and seashell earrings. I am intrigued. Sounds like a good read.
What are you guys waiting for?